About Frisco Periodontics and Dental Implants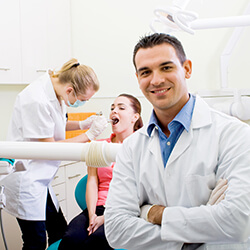 When you're in need of advanced periodontal and/or implant care that exceeds the boundaries of what your chosen general dentist can provide, it's time to trust in a seasoned specialist like Dr. Zachary Carnow. He and the rest of our team are committed to exceeding patient expectations however we can, providing focused, high-quality treatment that not only improves your oral health, but transforms your quality of life for the better. If you're ready to get started, do not wait – contact Frisco Periodontics and Dental Implants in the DFW area today to schedule your first consultation!
Conservative Approach
Our team may be more than capable of replacing your lost teeth with dental implants, but that doesn't mean it's our first choice for patients in need. Far from it – Dr. Carnow understands the importance of maintaining natural teeth and healthy gums. He will always try to save them with effective periodontal therapy and other techniques as the first line of defense. You deserve to keep your original smile strong and beautiful for life!
Compassionate & Caring
Pursing specialty treatment can be an intimidating prospect – that's why it's more important than ever to choose the right team who will always leave you feeling well-respected, comfortable, and satisfied. Here at Frisco Periodontics, our staff spends quality time with you, learning about your personal smile goals, the concerns you have regarding your oral health, and your life in general. Warmth and friendliness is a priority for us!
More to Explore