Bone Grafting Treatment in Frisco, TX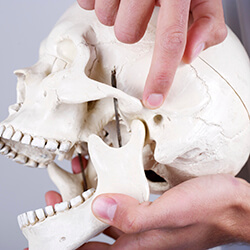 There are several reasons why patients may benefit from a bone grafting procedure at some point in their lives, whether they're struggling to maintain healthy teeth that are in danger from jawbone deterioration or they need additional support to finally replace missing dental structure with implants. At Frisco Periodontics and Dental Implants, our team recommends this safe and versatile procedure only when it's necessary, and patients can rest assured that they'll be well taken care of every step of the way. Contact our specialty practice in Frisco, TX today to schedule your first appointment.
Do I Need Bone Grafting?
Dr. Zachary Carnow is likely to suggest bone grafting in the following situations to patients from Frisco, TX and the surrounding area:
If the patient has lost a significant amount of bone loss from periodontal disease and requires help to prevent the loss of natural teeth. Our team will always do everyone we can to help you maintain a full, healthy smile.
If you would like to pursue dental implants as a reconstructive solution but don't have the proper amount of healthy jawbone structure to support their surgical placement. This procedure can strengthen the jawbone and help it achieve the recommended level of thickness.
If the patient has ridges in the bone that have occurred because of defects, injury, or periodontal disease. Shaping the jawbone with grafting can help improve aesthetics and self-confidence.
How Does Bone Grafting Work?
After the grafting material is harvested from a separate part of the body (or a tissue bank) and prepared for insertion, Dr. Carnow will create a small incision in the gum tissue and gently separate it from the patient's bone. The new bone material is then precisely placed in the affected site and the gum tissue is sutured to allow for proper healing. A follow-up appointment here in Frisco will be scheduled a short time later so that our team can assess your progress and ensure that you're recovering well from the procedure.