Dental Implants — Frisco, TX
The Next Best Thing to Natural Teeth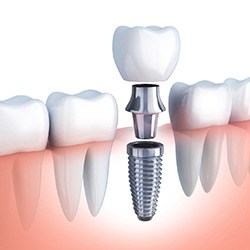 Often referred to as initial phase therapy, non-surgical therapy is usually the starting point of comprehensive periodontal treatment. It essentially allows us to halt the progression of bone and gum disease.
Today, dental implants are the clear frontrunner when it comes to treating tooth loss. By replacing both the roots and crowns, dental implants in Frisco are truly the next best thing to natural teeth. No other treatment option is as long-lasting, as seamlessly natural, or as healthy for patients with missing teeth! At Frisco Periodontics and Dental Implants, Dr. Zachary Carnow will work closely with your general dentist to ensure a comfortable and smooth experience, and the end result should be a recompleted smile that lasts for a lifetime. Contact our Frisco, TX location today if you'd like to schedule a visit, or if you have any questions for our team.
Why Choose Frisco Periodontics & Dental Implants For Dental Implants?
Advanced Dental Implant Procedures Available
Board-Certified Periodontist with Years of Advanced Training
Flexible Financing Available Through CareCredit
What Are Dental Implants?
When a natural tooth is gone, it results in much more than a simple hole in your smile – the bone that was once stimulated by the tooth's root actually suffers as well. The area will start to sink in, and this will spread towards other teeth as well without professional intervention. That's why so many older people have a "hunched" facial appearance – it's because their lips and even their cheeks are starting to sink in without the support of a strong jawbone.
Dental implants exceed the benefits of other, more traditional tooth replacement options because they directly combat the jawbone deterioration that occurs as a result of tooth loss. Traditional dentures and dental bridges only replace the crowns of missing teeth, which does nothing to prevent jawbone deterioration. Dental implants are small titanium posts that are inserted into the jawbone to replace the roots, creating new, vital stimulation for the jawbone that fuses in place. The top is then covered by a customized restoration that looks and feels wholly natural.
The Dental Implant Process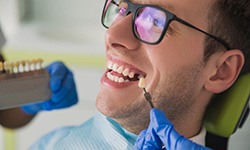 After it's been determined that dental implants are the right choice for your oral health needs, Dr. Carnow and the rest of our team will personally handle the surgical placement of your new implant. Once the implant is safely positioned within the original socket of the lost tooth, a process known as "osseointegration" takes over, during which your bone and tissue gradually form around the implant, creating a strong and stable foundation. After you've properly healed, you'll return to your general dentist so that they can seat a custom, all-ceramic dental crown, bridge, or denture over the dental implant(s), creating a new tooth that looks, feels, and functions just like the old one.
Benefits of Dental Implants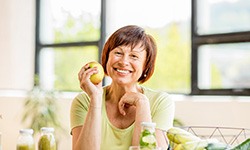 No unnatural removability – Having to wake up and put in your "teeth" every day can leave patients feeling glum about their smile. Dental implants are not removable, allowing them to feel and look completely natural. After a while, you may even forget they're not the genuine article.
Reduced irritation – Removable dentures that are constantly slipping in the mouth can result in gum tissue that's unnecessarily sore. Traditional dental bridges require altering healthy tooth structure, which can lead to damage and sensitivity. Dental implants are fully self-supporting, and should feel completely comfortable once they're healed into place.
No refitting – The gradual bone loss that occurs when patients use traditional dentures results in various refittings of the device over time to accommodate the new shape of the jaw. This isn't necessary with dental implants.
No separate cleanings – Your new prosthetic is fixed in place with implants and can be subjected to a normal oral hygiene routine just like natural teeth.
Stop jawbone deterioration — Dental implants are the only tooth replacement option that replaces the roots of missing teeth, therefore stopping jawbone deterioration and helping you retain your healthy, youthful facial appearance.
Who Dental Implants Can Help
Whether you're missing one tooth, several teeth, or an entire arch of pearly whites, simple, everyday activities like eating and speaking can become embarrassingly difficult. Thankfully, dental implants can assist patients in need of multiple teeth replacement just as well as those who require a new, individual tooth. With dental implants, we can rebuild any number of missing teeth anywhere in the mouth from the roots up.
Missing 1 Tooth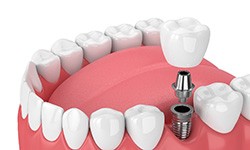 For a single missing tooth, we'll simply place one dental implant into the socket where the missing tooth's roots once were. After osseointegration, the implant is then topped with a custom-made crown that blends in seamlessly with the rest of your smile.
Missing Multiple Teeth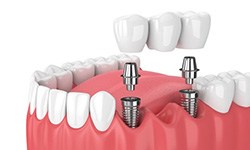 When replacing individual teeth with implants, one implant typically equals one new tooth/restoration. However, in cases where greater coverage is required, Dr. Carnow may use strategically placed implants to replace several teeth at once with an implant-supported bridge. This creates a stable and healthier foundation for the prosthetic while remaining more cost-effective for the patient.
Missing All Teeth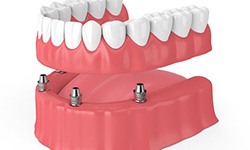 Patients who are missing all their teeth or are tired of their traditional dentures will be happy to know that implant dentures can replace a full arch of missing teeth. With four to eight strategically placed dental implants, we can anchor a full denture into place with unmatched stability and comfort.
Understanding the Cost of Dental Implants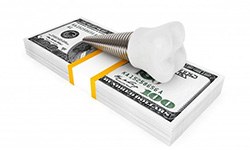 There are a wide variety of factors that influence the cost of dental implants in Frisco. Variables like preliminary treatments, number of dental implants, and insurance coverage will be unique from patient to patient, which is why there is no set cost. When you visit us, we'll take into consideration all these factors and more to create a custom estimate for you before you decide to move forward. While dental implants have a higher up-front price than traditional options like dentures or dental bridges, they have the potential to last a lifetime and improve your oral health, which can save you thousands of dollars on replacements and future oral healthcare costs.
More to Explore