Meet Your Frisco Periodontist
Dr. Zachary Carnow
Board Certified Periodontist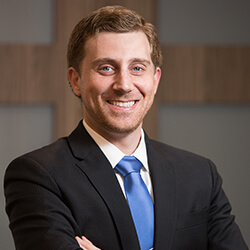 Dr. Zachary Carnow is a proud third generation dentist. Both his father and grandfather were dentists in Los Angeles, California. After graduating from Loyola Marymount University in Los Angeles, Dr. Carnow attended the University of the Pacific Arthur A. Dugoni School of Dentistry where he earned his dental degree. While practicing as a general dentist Dr. Carnow continued learning and expanding his dental knowledge. He completed a 1-year implant residency through Loma Linda University School of Dentistry. He worked alongside his father, Dr. Marvin Carnow, practicing general dentistry for four years before making the decision to further his education and passion. In July of 2013, Dr. Carnow began his specialty training in Periodontics at Tufts University School of Dental Medicine. In his third year he was honored to be appointed as the co-chief resident. Dr. Carnow currently holds a dental license in three states; California, Massachusetts and Texas. As a board certified periodontist, Dr. Carnow has completed extensive additional training on periodontics above and beyond the mandatory educational requirements of the specialty. His advanced training and skill allow Dr. Carnow to navigate even the most complex gum disease and dental implant cases.
He has served on many mission trips to help impoverished countries. Dr. Carnow has made multiple trips to Peru and Mexico to perform preventative and surgical services to the local residents. He has also volunteered many times, locally, at Care Now L.A. providing dental services to the underserved population. More recently, he began to volunteer with the North Texas Dental Society.
Dr. Carnow is committed to the highest quality of care with his patients in order to achieve the best treatment results. He has treated a broad array of patients with a variety of periodontal conditions. His interest is in the diagnosis and management of periodontal diseases, pre-prosthetic periodontal surgery, implant surgery, cosmetic gum surgery as well as conditions that arise with endodontic and orthodontically involved teeth. Dr. Carnow strives to not only enhance his patient's overall dental health and appearance, but also provide individualized treatment tailored their needs. He performs surgical services to correct bone defects around teeth, ridge augmentation and bone grafts for implant surgery, sinus lifts, soft tissue gum grafting, and crown lengthening procedures.
Memberships and Association
Dr. Carnow is a member of the American Academy of Periodontology, the American Dental Association, North Texas Dental Society, and Texas Society of Periodontists. He was a past member of the Academy of General Dentists and American Academy of Implant Dentistry.
Personal Life
When Dr. Carnow is not with patients, he enjoys spending time with friends and family. He loves to cook (but not bake) and has embraced "the art of barbequing and smoking." He has two furry feline babies named Quincey and Berkley that he adopted from a local animal shelter in Boston. He enjoys staying active and exploring the big state of Texas. During the fall and winter you can find Dr. Carnow watching Football. Go Dallas Cowboys!
More to Explore