Treating Gum Disease with Gum Grafting Care in Frisco, TX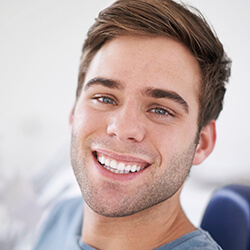 Gum grafting (also commonly referred to as a soft tissue or gingival graft) is typically recommended when a patient's periodontal health is sorely in need of a positive boost. At Frisco Periodontal and Dental Implants, Dr. Zachary Carnow and the rest of our team can help you overcome infection and regain healthy tissue that supports your strong, natural teeth for years to come. Patients from McKinney, TX and surrounding areas are encouraged to contact our Frisco location today and schedule an appointment.
Do I Need Gum Grafting?
We typically recommend gum grafting to patients who have experienced gingival recession because of periodontal disease, aggressive brushing, and/or some form of physical trauma. Additionally, it may be the right procedure for you if any of the following benefits sound appealing:
Improved appearance – If your smile is beginning to appear overly "toothy" because of recession, adding a gum graft can restore them to their normal, symmetrical appearance and cosmetically enhance the surrounding tissue as well.
Restored periodontal health – Periodontal disease tends to destroy gum tissue very quickly. A proper gum graft can help prevent this destruction and the loss of bone as well, which protects your valuable tooth roots from decay.
Reduced sensitivity – When the tooth roots are exposed, oral sensitivity to hot and cold temperatures can become an extreme danger. New soft tissue material can provide permanent coverage and reduce discomfort.
How Does Gum Grafting Work?
After the teeth and gums have been thoroughly cleaned to remove bacteria, plaque, and tartar (calculus), Dr. Carnow will make small incisions at the treated site, creating a small pocket that will accommodate the new tissue material (which may come from the patient themselves or a bank). After the material is successfully inserted between the two sections of tissue, sutures will be added for stabilization and to prevent any unwanted shifting.