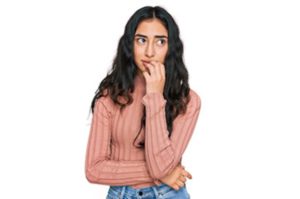 When most people think about their oral health, their pearly whites are the first thing to come to mind—but your gums are actually just as important as your teeth! That said, gum disease is a very widespread and serious problem; it's estimated that about half of all adults over the age of 30 have some form of it! But did you know your oral health isn't all that's at risk if you suffer from gum disease? Research shows that it can actually contribute to several different health issues, including mental-health issues! Here's more from your periodontist in Frisco about this link and some tips for improving both the health of your gums and your mental well-being.
The Link Between Gum Disease & Mental Health
Gum disease is mainly the result of an infection due to the accumulation of bacteria caused by plaque and tartar. When bacteria stay on the teeth long enough, they form a film called plaque, which eventually turns to tartar build-up that spreads below the gumline. This is very difficult to clean without the help of your dentist, and poor oral hygiene is often a big contributor. Needless to say, it can negatively affect the health of your mouth, as well as the rest of your body if the infection enters your bloodstream—but how does it impact your mental health?
According to a study from the University of Birmingham, patients with gum disease actually have a 37% increased risk of mental illnesses including anxiety and depression. Of course, the other various issues that stem from gum disease including heart disease, diabetes, and the potential for total tooth loss can all also impact one's mental health—you probably won't feel too thrilled about experiencing any of these issues!
Improving your Oral & Mental Health
As serious as gum disease might be, it's also very preventable if you take the appropriate approach. This includes things such as routine preventive care, practicing excellent oral hygiene, and being mindful of your diet and oral habits. Visiting your dentist allows them to examine your mouth for potential signs of gum disease while also cleaning your teeth of the problematic plaque and tartar building. Brushing and flossing daily allows you to maintain a sanitary mouth on your own, which is vital in the fight against gum disease. Avoiding sugary items and opting for a vitamin-rich diet will also contribute to healthy gums.
By maintaining a healthy mouth, you can greatly reduce your risk for gum disease and in turn, lower your chances of experiencing mental health issues. That said, if you're concerned about the health of your gums and the impact it could have on your mental health, don't hesitate to contact your dentist for assistance: periodontal therapy is even available to target gum disease and get the health of your smile and mind back on track!
About the Author
Dr. Zachary Carnow received his dental doctorate from the University of the Pacific Arthur A. Dugoni School of Dentistry and is a proud member of several professional organizations including the notable American Dental Association. His practice in Frisco is pleased to offer a wide range of services including periodontal therapy. If you have any questions about the article or would like to arrange a visit, feel free to contact the practice online or over the phone for assistance: (214) 619-4990.