Placement of Dental Implants for Bridges & Dentures in Frisco, TX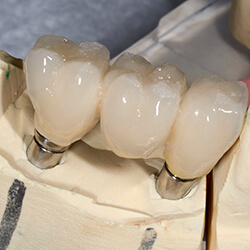 When you're missing several (or even an entire row) or your natural teeth, even simple, everyday activities like eating and speaking can become embarrassingly difficult. Thankfully, dental implants can assist patients in need of multiple teeth replacement just as well as those who require a new, individual tooth. Dr. Zachary Carnow looks forward to working alongside your general doctor and providing a comfortable, welcoming treatment experience from beginning to end. Please contact Frisco Periodontics and Dental Implants today to get started! Located in Frisco, our team also welcomes patients from McKinney, TX and beyond.
Why Should You Replace Multiple Teeth with Dental Implants?
When replacing individual teeth with implants, one implant typically equals one new tooth/restoration. However, in cases where greater coverage is required, Dr. Carnow may use strategically placed implants to replace several teeth at once with an implant-supported bridge or denture. This creates a stable and healthier foundation for the prosthetic while remaining more cost-effective for the patient. There are several valuable advantages to replacing multiple missing teeth in this fashion, including:
No refitting – The gradual bone loss that occurs when patients use traditional dentures results in various refittings of the device over time to accommodate the new shape of the jaw. This isn't necessary with an implant-supported bridge/denture.
No separate cleanings – Your new prosthetic is fixed in place with implants and can be subjected to a normal oral hygiene routine just like natural teeth.
Reduced irritation – Removable dentures that are constantly slipping in the mouth can result in gum tissue that's unnecessarily sore. After you've recovered from the placement of your implant-retained denture, patients are able to enjoy uninterrupted stability and confidence.
No unnatural removability – Having to wake up and put in your "teeth" every day can leave patients feeling glum about their smile. Implant-retained bridges and dentures feel and look completely natural, and after a while, you may even forget they're not the genuine article.