Single Tooth Placement of Dental Implants in Frisco, TX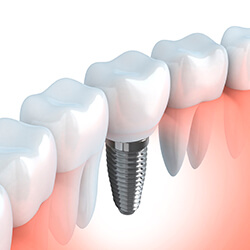 Today, dental implants are the clear frontrunner when it comes to replacing natural teeth that have unfortunately been lost. No other treatment option is as long-lasting, as seamlessly natural, or as healthy for patients in need! At Frisco Periodontics and Dental Implants, Dr. Zachary Carnow will work closely with your general dentist to ensure a comfortable and smooth experience, and the end result should be a recompleted smile that lasts for a lifetime. Contact our Frisco, TX location today if you'd like to schedule a visit, or if you have any questions for our team.
What Happens When I Lose A Tooth?
When a natural tooth is gone, it results in much more than a simple hole in your smile – the bone that was once stimulated by the tooth's root actually suffers as well. The area will start to sink in, and this will spread towards other teeth as well without professional intervention. That's why so many older people have a "hunched" facial appearance – it's because their lips and even their cheeks are starting to sink in without the support of a strong jawbone.
How Do Dental Implants Work?
Dental implants exceed the benefits of other, more traditional tooth replacement options because they directly combat the jawbone deterioration that occurs as a result of tooth loss. The implant itself is essentially a new "root" that's placed within the natural tissue, creating new, vital stimulation for the jawbone that fuses in place. The top is then covered by a customized restoration that looks and feels wholly natural.
The Dental Implant Process
After it's been determined that dental implants are the right choice for your oral health needs, Dr. Carnow and the rest of our team will personally handle the surgical placement of your new implant. Once the implant is safely positioned within the original socket of the lost tooth, a process known as "osseointegration" takes over, during which your bone and tissue gradually forms around the implant, creating a strong and stable foundation. After you've properly healed, you'll return to your general dentist so that they can seat a custom, all-ceramic dental crown over the single implant, creating a new tooth that looks, feels, and functions just like the old one.