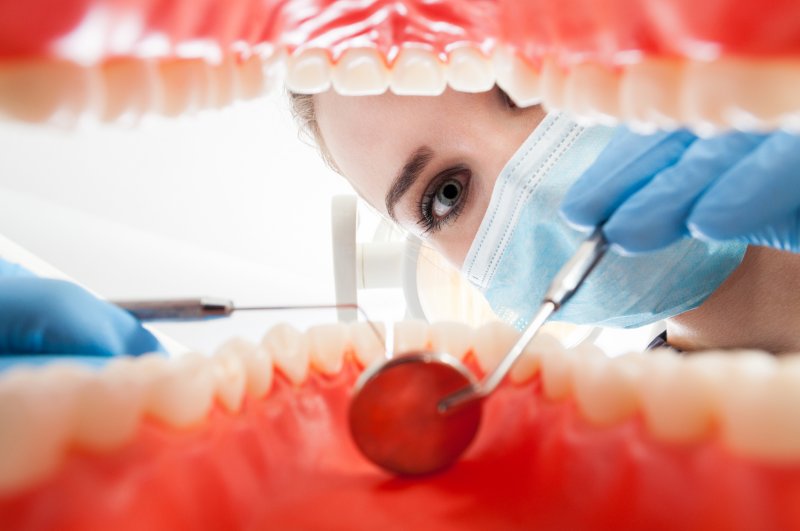 Periodontitis is a serious condition that can permanently affect the overall health of your gum tissue. However, many people don't realize that the visible portions of your gum tissue are not the only oral structures at risk if you develop periodontitis. The furcation, which is responsible for holding the roots of multiple teeth, can also become compromised. Today, a periodontist in Frisco explains what this means and how you can treat it, effectively saving your teeth in the process.
What is a Furcation?
The furcation is not often talked about in dentistry, mainly because it comes up only in advanced gum disease cases like periodontitis. Technically, the furcation refers to the area where the roots divide and branch into multiple teeth at a time. Keep in mind that the furcation is exclusively present in multi-rooted teeth.
It's important to acknowledge that, in the context of gum disease, inflammation affects not just gum tissue, but the roots of teeth as well. If the roots, which are connected to bone tissue, become damaged, it becomes impossible for teeth to stay in properly. This also leads to damage of bone tissue, which dramatically increases the risk of tooth loss.
How Can It Become Defected?
You may already know that teeth have roots that provide them solid foundation in your gum tissue. When gum disease develops, it causes these tissues to become red, swollen and inflamed, but it also leads to damage of the roots of your teeth. This is why gum disease is the leading cause of tooth loss in adults. While gum disease puts all teeth at risk, it's referred to as a furcation defect when it happens specifically to the roots that branch to multiple teeth. In this case, it refers to the molars and premolars, which are the only teeth that have branching root systems. Without treatment, you may need to have these teeth extracted. The molars and premolars are essential for grinding and processing food properly, which is why it's so important to get treatment as soon as possible.
What is the Treatment for a Defected Furcation?
There are many ways to effectively treat a furcation defect. This includes scaling and root planing, which is the standard for treating advanced gum disease, removing plaque and bacteria from above and below the gum line, and preventing infection from developing further.
Additionally, periodontists and oral surgeons can perform a bone grafting treatment, which involves taking bone tissue (either from another part of the patient's body or from a donated cadaver) and attaching it to the bone tissue inside the mouth. Over time, this bone becomes part of the jawbone and the proteins from it help the area heal properly. The same concept is applied when replacing damaged or decayed gum tissue through a process called gum grafting.
Are you dealing with a furcation defect? The best thing you can do is seek expert treatment from a periodontist. If your gums are red, inflamed or swollen in any way, don't hesitate to schedule an appointment today!
About the Author
Dr. Zachary A. Carnow has been providing specialty periodontal (gum) treatments for many years and has never been afraid to take on complex gum disease cases. He performs periodontal therapy as well as both gum and bone grafting for patients suffering from a defected furcation. To schedule your next appointment or treatment with him, you can contact him through his website.