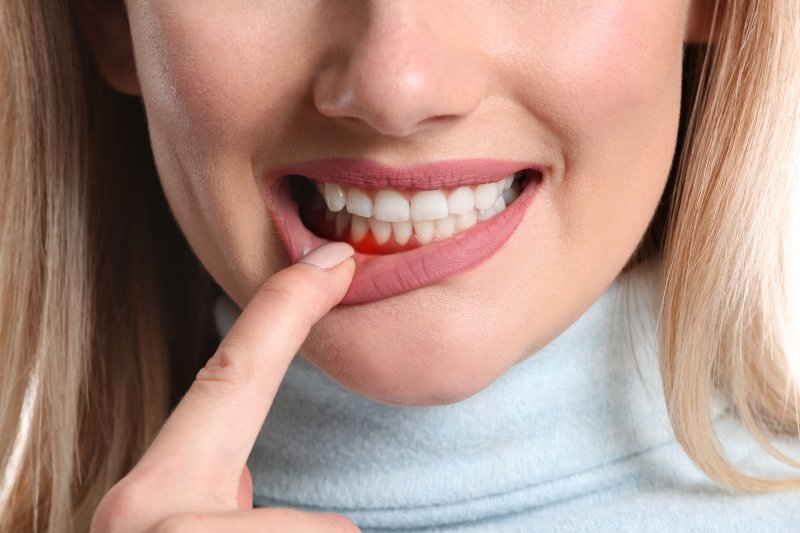 Gum disease is largely known as the "silent killer" among periodontists for one main reason: it often develops without you even knowing it. Even worse, the long-term impacts of this common infection are often not realized until it's already too late. To learn more about these concerns and how to best avoid gum disease in Frisco, keep reading!
Sensitivity, Tenderness, and Discomfort
As oral bacteria consume residual sugars and starches inside your mouth, they begin to release plaque acids that slowly collect and calcify on the teeth and gums. Over enough time, this plaque can turn into tartar, which can only be removed by a dentist. That means no amount of brushing or flossing will remove it on its own.
As the gums remain exposed to plaque acids, they become irritated and can begin bleeding when left unremoved. On top of consistent irritation, the gums will also feel more tender to the touch, making it more difficult to consume hot or cold beverages and foods. It can also become quite uncomfortable to manage throughout the day.
Gum Recession
A natural reaction the gums have to chronic plaque development is to recede from the teeth, causing the root portion to become exposed. While your gums may already feel sensitive in the early stages, they can start to feel even more sensitive as more of your natural tooth enamel becomes vulnerable to plaque acids. You may also notice worsened breath, loose teeth, and bleeding after flossing or brushing. Gum recession is one of the more visible symptoms of gum disease and requires professional attention immediately.
Bone Damage and Tooth Loss
In more severe cases of gum disease, the underlying bone tissue that holds teeth in place begins to break down. If a tooth has no stable foundation to rely on, it won't stay inside the jaw for very long. This is also why gum disease remains to be the leading cause of tooth loss in adults.
What Can You Do to Prevent/Treat Gum Disease?
In most cases, the early signs of gum disease are too difficult to spot with the untrained eye. However, if you do notice gum disease symptoms, such as swelling, tenderness, bleeding, recession, or general discomfort in your gum tissue, you'll want to get in touch with a periodontist in Frisco as soon as possible. If you do not currently have any signs of gum disease, make sure that you are brushing twice a day with fluoridated toothpaste, flossing once a day, and keeping up with routine dental checkups.
Remember, just because you may be exhibiting early signs of gum disease does not mean it will necessarily go away with improved at-home oral care alone. You should still have it examined by a professional to confirm no additional treatment is needed. Call a periodontist today to set up an appointment!
About the Author
Dr. Carnow has been serving as a periodontal specialist for many years now and currently holds board-certification in his field. He's completed extensive training in periodontics above what is mandatory, allowing him to navigate even the most complex gum disease cases. To address your gum problems or ensure no underlying gum disease is present, you can contact him through his website.