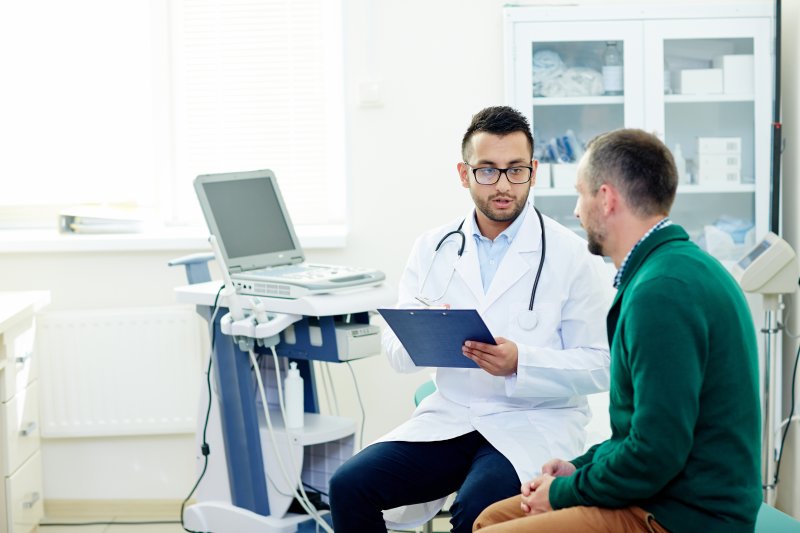 Dental professionals, whether they be general dentists, specialists, or anyone else in the field, are always emphasizing the connection between oral health and overall health. Many people don't realize that if you have poor oral health, it has the potential to trigger systemic illness as well. For example, there's a growing body of research showing that chronic dental issues like gum disease may increase the risk for high blood pressure. Read on to learn more about this connection and how to protect your oral health going forward.
Recent Research on Gum Disease and Hypertension
Based on data collected in a recent study coming out of the University College London Eastman Dental Institute, gum disease may make an otherwise healthy person significantly more likely to develop high blood pressure (i.e. hypertension). In the report, they note that periodontal bacteria causes damage to the gums, but also triggers inflammatory responses that can impact the development of systemic diseases.
By studying 250 adults with periodontitis (a severe form of gum disease) and 250 adults without gum disease (with the median age being 35), it showed that participants with gum disease were twice as likely to have high systolic blood pressure compared to those with healthy gums. The systolic level indicates how much pressure blood is exerting on the vessels throughout the body.
While gum disease and hypertension only maintain an association, not a cause-and-effect relationship, these findings also suggest that roughly 50% of adults could have an increased risk for or even undetected high blood pressure. This is because about 50% of U.S. adults are suspected to have gum disease.
How to Protect Your Gums Moving Forward
The good news is researchers note that preventing and treating gum disease can be a cost-effective way to reduce systemic inflammation throughout the body and improve the function of the heart and blood vessels.
During routine checkups, it helps to visit a dentist that takes your heart health just as seriously as your gum health. For example, if they take your blood pressure ahead of performing dental treatments (even for something as simple as an exam and cleaning), they can use that data to inform their examination process.
Of course, caring for your gums doesn't end in the dental office. While you should complete checkups once every six months, you'll also need to practice at-home oral hygiene. This includes:
Brushing twice a day for at least two minutes at a time
Brushing twice a day for at least two minutes at a time
Flossing once a day to remove plaque and food debris from in between teeth
Using a mouthwash if you already have red, swollen, or bleeding gums
If at any point you notice issues with your gum tissue, it's best to visit a periodontist for an exam over a general dentist. Not only are they specialized to treat advanced forms of gum disease, but they can also equip you with the best knowledge to protect your gums, especially if you're at higher risk.
About the Author
Dr. Zachary Carnow has been a board-certified periodontist for many years and holds extensive training and clinical expertise in the field of periodontics, which focuses on the management and treatment of gum disease. No matter how severe your symptoms may be, he's prepared to help you get your gum health (and by proxy your overall health) back to normal. To schedule an appointment, you can contact him through his website.