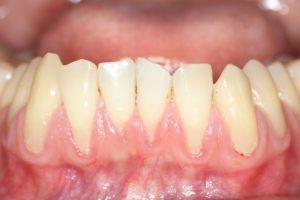 Gum recession can occur for a couple of different reasons, including brushing too hard, not using a soft-bristled toothbrush, or due to gum disease, which is an infection that impacts the health of your soft oral tissues. In any case, once they have receded, causing your teeth to appear longer, it's not likely that they'll grow back on their own. Fortunately, periodontists are able to perform special procedures to make sure your gums are able to adequately protect the roots of your teeth to prevent additional issues from developing down the road. Read on to learn more about gum recession and how it can be reversed.
What Causes Gum Recession?
Gum recession can occur due to poor oral hygiene, habits like smoking, genetics, and one of the most common oral health problems among American adults, gum disease. Here are some specific habits and instances in which gums may recede:
Poor oral health leads to a buildup of bacteria within the mouth, leading to gum disease, inflammation, swelling, and bleeding.
Aggressive brushing and flossing wears down tooth enamel and gum tissue.
Genetics makes you more prone to gum recession despite having a good oral hygiene routine.
Grinding and clenching of your teeth.
Hormonal changes, including during puberty, pregnancy, and menopause.
Trauma to gum tissue.
Smoking and chewing tobacco, leading to a weakened immune system and less saliva within the mouth.
How Can You Tell if Your Gums Have Receded?
Here are several signs that could signify that your gums are receding:
Your teeth feel hyper-sensitive to foods and beverages that are hot and cold.
Your teeth appear longer than usual.
Chronic bad breath.
Loose permanent teeth.
Inflamed and swollen gums that bleed when you brush or floss.
Is it Possible to Reverse Gum Recession?
Unfortunately, as soon as gums have receded, there's no chance of them growing back. However, there are treatments offered by specialists available to help reverse the effects and ensure that the roots of your teeth remain protected by soft tissue. In most cases, gum grafts are only offered by periodontists who have specialized in gum treatments, which involves completing an additional three-year residency following dental school.
Thanks to their advanced training and skills, they're able to graft soft tissue, typically from the roof of the mouth, to the gumline by creating a small pocket that will house the new, healthy oral tissue. This all takes place after they have thoroughly cleaned the mouth, removing any plaque, tartar, and bacteria that could compromise the graft. Afterward, you'll be able to enjoy a happy, healthy smile that's recession-free.
About the Author
Dr. Zachary Carnow is a board-certified periodontist with specialty training in implant dentistry. He has countless years of experience under his belt as well as hundreds of hours of continuing education, making him highly capable and adept at addressing gum issues. He offers several surgical and non-surgical specialty services to help reverse the signs of gum disease, including gum grafting, bone grafting, and comprehensive periodontal therapy. For questions or to schedule an appointment, visit Frisco Periodontics and Dental Implants' website or call 214-619-4990.