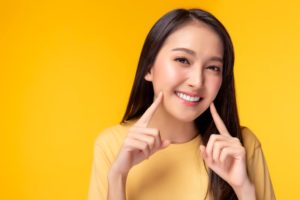 Would you like to enhance your smile? Perhaps you want to brighten your teeth or transform yourself with veneers. Whatever the case, you may be eager to visit a cosmetic dentist to see what they can do for you. After the dentist examines your mouth, they might tell you that you should wait to undergo aesthetic procedures until after you have had some other treatments completed. This blog post delves into the importance of gum disease therapy before cosmetic dental work.
What Is Gum Disease?
Gum disease is an infection that afflicts the pink tissue around the teeth. According to some estimates, around half of adults in the U.S. have some form of this condition. Many people do not even realize they have it because at first, it produces very subtle signs, such as minor swelling and bleeding during oral hygiene activities.
As gum disease progresses, it can become extremely serious. In fact, it is a leading cause of tooth loss. It can also greatly affect the way a smile looks because it causes the gums to become red and recede. Also noteworthy is the fact that it causes persistent bad breath.
How Gum Disease Interferes with Cosmetic Treatment
If you are diagnosed with gum disease, undergoing appropriate treatment will in and of itself benefit your smile's aesthetics. For example, you may find that your gums look better and you enjoy fresher breath.
Of course, that is not the only reason why cosmetic procedures should wait until after gum disease treatment has been completed. Gum disease can cause complications that interfere with cosmetic work. For example, if your gums recede and expose your tooth roots, a whitening treatment could seriously irritate that sensitive part of your smile. Receding gums could also make your teeth become loose, rendering them unable to serve as a strong support for veneers.
When Can You Get Cosmetic Dental Work?
Depending on the severity of your gum disease, it may take weeks or months to get it under control. Once you are free of active infections, your dental team may want to monitor you for a while to ensure that your condition remains stable. Thereafter, you are likely to receive the go-ahead for your desired cosmetic services.
Gum disease might slow down your journey to your ideal smile, but ultimately, it is unlikely to prevent you from achieving the gorgeous grin that you have always wanted.
Meet the Practice
Under the leadership of Dr. Zachary Carnow, Frisco Periodontics and Dental Implants proudly offers both surgical and non-surgical gum disease treatment in a welcoming, modern environment. If you are concerned about your gum health, our team would be pleased to evaluate your situation. Contact us at 214-619-4990.