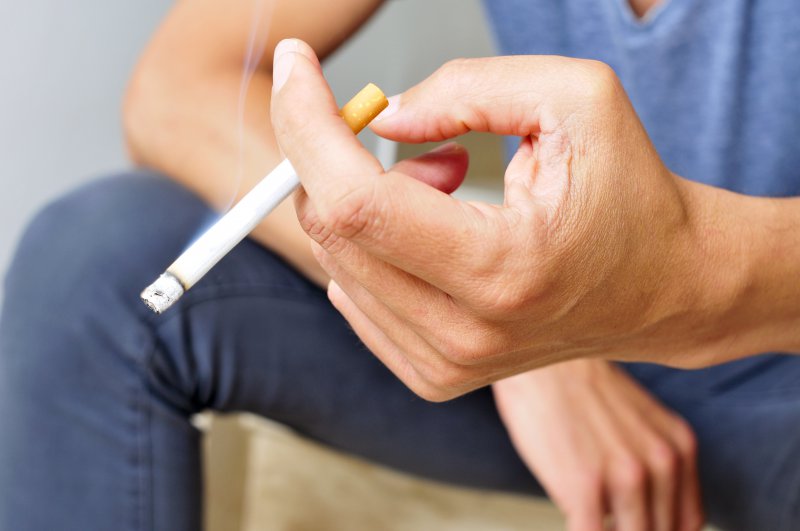 Dental implants have been noted as one of the most advanced tooth replacement solutions to date, according to the American Dental Association. Not only do they replace the visible portions of teeth, but their restorative benefits ensure that your smile stays beautiful and functional for several decades. But just because the crown cannot develop decay like natural tooth enamel doesn't mean you can engage in habits that could cause them to fail. This includes smoking, which also happens to be the main cause of gum disease in the United States.
If you plan on choosing dental implants in Frisco to replace your teeth and you're a smoker, keep reading to learn why you should work towards quitting your habit right now.
The Facts Behind Dental Implants
The crown that sits atop dental implants are made from porcelain, which means they cannot develop tooth decay. While that is a huge bonus for patients, it does not mean that they can put off daily oral care altogether. The implants themselves (or the titanium post that integrates with existing bone tissue) require healthy bone and gum tissue to stay in place. Just like your natural tooth roots, a tooth cannot be sustained without the healthy jawbone tissue surrounding the implant.
If your jawbone tissue deteriorates as a result of unremoved plaque and tartar, the post can significantly loosen and even fall out, just like natural teeth. Keep in mind that dental implants are designed to be the closest tooth replacement solution out there today, which means they can fail exactly like natural teeth if not properly maintained.
How Cigarettes Affect the Healing Process
Here's the truth: cigarettes can be extremely harmful to dental implants. Study after study has shown that smoking can have a negative impact on healing after a surgery, especially after placement of dental implants. This is largely because smoking inhibits blood flow to the gum and bone tissues surrounding dental implants, negatively affecting their ability to integrate with these structures.
The toxins in cigarettes also play a major role in your dental implant treatment, especially nicotine. This is because nicotine restricts the blood vessels, reducing your body's ability to transfer oxygen and nutrients to areas where healing is needed.
Should You Quit Smoking if You Want Dental Implants?
In conclusion, dentists will tell you that no amount of smoking or using tobacco is good for your oral or overall health. However, it's even more pertinent to you as a patient if you intend on pursuing dental implant treatment. Not only should you quit the habit entirely, but you're going to want to start paying very close attention to your current oral care habits, including brushing, flossing, and regularly visiting the dentist for routine checkups.
If you're missing one or more teeth, a periodontist in Frisco can help you get on the right track towards tooth replacement via dental implants. Schedule a consultation today to learn exactly what the next best steps are to take outside of quitting all tobacco use!
About the Author
Dr. Zachary A. Carnow earned his dental degree from the University of the Pacific Arthur A. Dugoni School of Dentistry. After completing his 1-year implant residency at Loma Linda University School of Dentistry, he began specialty training in Periodontics at Tufts University School of Dental Medicine. To learn more about dental implant treatment, you can contact him through his website.