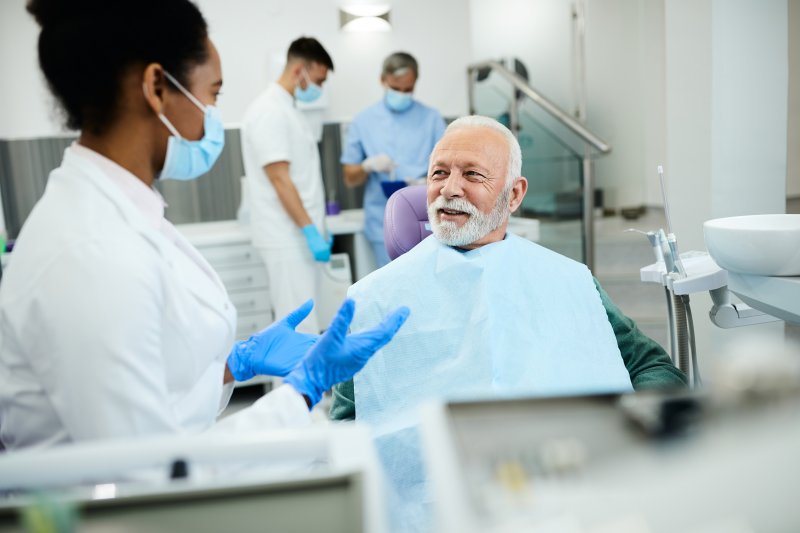 Missing teeth can have a major impact on your day-to-day life. From not being able to eat certain foods to wanting to hide your smile, it's not surprising if you want to start treatment to have teeth replaced as soon as possible. What you may not have realized, however, is all dental implant treatments begin with an in-depth, one-on-one dental implant consultation in Frisco. When you arrive for this appointment, you'll want to keep the following questions in mind for your implant dentist.
"How Much Experience Do You Have with Implants?"
Dentists go through additional training in order to be able to place dental implants safely and confidently. Whether you plan on having single or multiple dental implants placed, it's fair to ask what the dentist's credentials are to do so. Furthermore, feel free to confirm how many years they have been placing dental implants or if they hold a specialty that gives them more credibility than the average dentist, such as periodontics. Visiting a periodontist to have dental implants is actually quite common, especially if the reason you're visiting them is because you were referred to them by a current dentist.
"How Do You Keep the Process as Smooth as Possible?"
Dental implant treatment is a complex process with multiple steps and phases, which can feel overwhelming at first. A dentist who is highly experienced with placing dental implants understands this and therefore should be ready to explain in detail how they ensure your comfort during every step of the procedure. While this will always include administering local anesthetic properly to guarantee no sensations are felt during surgery, it also should include taking the time to meet your comfort levels.
"What is Required to Qualify for Dental Implants?"
Dentists must complete a comprehensive exam ahead of time to confirm certain aspects about your oral and overall health. For example, they'll examine your:
Gum health
Medical history (preexisting conditions an influence your ability to receive dental implants)
Jawbone tissue
Depending on your circumstance, you may need to complete preparatory treatments in order to receive dental implants.
"How Long Does Treatment Take?"
Dental implants are a commitment, there's no denying that. While the surgical process of placing dental implants can be completed in a single visit lasting one to two hours on average, the healing phase requires several months of time. A dentist can break down what that timeline looks like as well as how follow-up visits will work.
Keep in mind this is not an exhaustive list of questions to consider during a dental implant consultation. There are many other questions that can and should be considered ahead of treatment. Schedule an appointment with a periodontist in Frisco today to start the process and learn more about how dental implants work!
About the Author
Dr. Carnow holds advanced training in periodontics and is board-certified in his field, meaning he's gone above and beyond to expand his expertise. His specialty training includes the placement of dental implants, including single and multiple implant cases, meaning you can replace individual or several teeth at a time when you choose his office for care. To set up a one-on-one consultation with his office, you can contact him through his website.