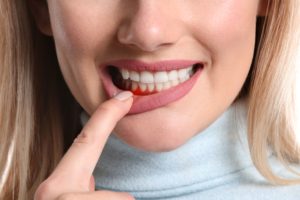 There's no better time than September, National Gum Care Month, to promote healthy oral hygiene! We tend to think of dental care as pertaining only to our teeth, but our gums play an equally significant role. In fact, gum disease is the number one leading cause of tooth loss in adults- even more than tooth decay! Keep reading to learn 4 facts about gum disease and how you can prevent it!
Fact #1- It Comes In Stages
Typically gum disease happens in two stages. They include:
Gingivitis. This is the early stage of gum disease. It happens when unhealthy bacteria gather below the gumline. These microbes react to sugars in foods we consume and build plaque around the tooth and gums that can result in infection.
Periodontitis. If gingivitis goes untreated, it advances to periodontitis. In this stage, your gums may pull away from your teeth to avoid unhealthy bacteria. This exposes the vulnerable undersides of your tooth and can even result in tooth loss.
Typically, your dentist can treat gingivitis, but damage done to the gums as periodontitis develops is often irreversible.
Fact #2- It's Silent
In an ideal world, we would immediately notice symptoms of unhealthy gums. It's unfortunately easy to miss early indicators, though, and so it's considered a "silent" disease. If you're like 60% of people, you might not even know anything's wrong!
Fact #3- No Age Is Immune
Parents of young children need to be just as aware of their little one's oral well-being as their own because gum disease can affect anyone at any age. While more advanced gum disease is not as common among children, gingivitis is as chronic as cavities! Curbing back their access to high-sugar foods and drinks can help, along with consistent dental hygiene.
Fact #4- It's Preventable
Because it's sometimes difficult to catch in the early stages, we often don't know bacteria is working against our gums until damage (like receding gums) has taken place. The harm cannot be reversed and so it's important to stop it from occurring in the first place. Fortunately, gum disease is highly preventable! You can protect both your teeth and gums from plaque and bacteria by brushing and flossing at least twice every day.
While it does minimize the likelihood that you'll develop gum disease, even with an impeccable dental routine, you might still be at risk. Other factors like tobacco or alcohol use, diabetes, some medications, and genetics all can impact your oral health.
Therefore, the best way to ensure pristine gums is to keep up standard appointments with your dentist. They'll be able to spot signs of gum disease in time to treat it properly if you're visiting regularly. By maintaining a high standard of care, you help ensure your gums stay healthy and strong for the long haul!
About the Author
Dr. Zachary Carnow is a 3rd generation dentist and worked alongside his father practicing general dentistry before specialty training in Periodontics at Tufts University School of Dental Medicine. Now, he is a board-certified periodontist and holds a dental license in 3 states. As a periodontist, he is specifically trained in all aspects of gum care. If you're concerned that you might have developed gum disease, there's no one better equipped to help! You're welcome to contact the office on the website or call (214) 619-4990.